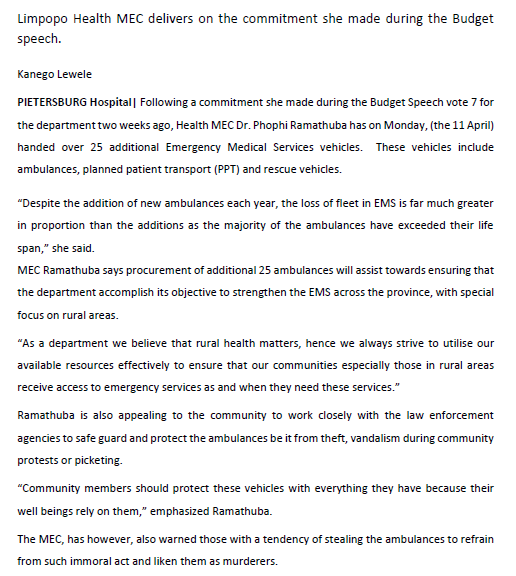 Kanego Lewele
PIETERSBURG Hospital: :Following a commitment she made during the Budget Speech vote 7 for the department two weeks ago, Health MEC Dr. Phophi Ramathuba has on Monday, (the 11 April) handed over 25 additional Emergency Medical Services vehicles. These vehicles include ambulances, planned patient transport (PPT) and rescue vehicles.
"Despite the addition of new ambulances each year, the loss of fleet in EMS is far much greater in proportion than the additions as the majority of the ambulances have exceeded their life span," she said. MEC Ramathuba says procurement of additional 25 ambulances will assist towards ensuring that the department accomplish its objective to strengthen the EMS across the province, with special focus on rural areas.
"As a department we believe that rural health matters, hence we always strive to utilise our available resources effectively to ensure that our communities especially those in rural areas receive access to emergency services as and when they need these services." Ramathuba is also appealing to the community to work closely with the law enforcement agencies to safe guard and protect the ambulances be it from theft, vandalism during community protests or picketing.
"After consultation I was diagnosed with TB and I was so scared, asking myself questions such as why me? Where did I get this disease and many other depressing questions." The treatment period was never an easy journey for Siobo. "It marked the beginning of a lonely and very depressing journey for me," she recalls.
"Community members should protect these vehicles with everything they have because their well beings rely on them," emphasized Ramathuba. The MEC, has however, also warned those with a tendency of stealing the ambulances to refrain from such immoral act and liken them as murderers.
Meanwhile, Deputy Director in the EMS Mr. David Dennison said while preparing the procurement for the ambulances they have also considered factors such as the type of road terrain versus the kind of the make and model which is mostly suitable in deep rural areas.
...