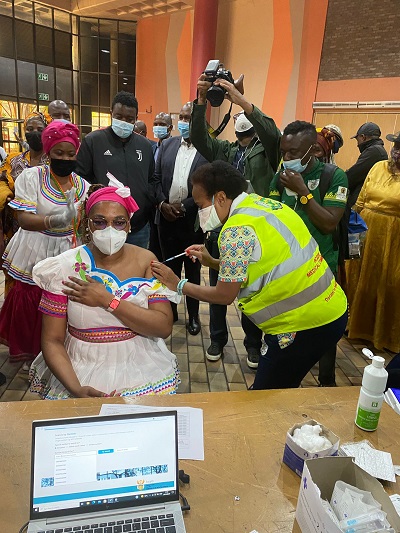 Kanego Lewele
POLOKWANE:Limpopo Premier Chupu Mathabatha has warned the youth against the dangers of not vaccinating for Covid-19 and also encourage them to get vaccinated. Mathabatha was speaking during the launch of the provincial vaccine rollout for young people between the ages of 18 and 34 that took place at Jack Botes Hall in Polokwane.
The National Government has declared the opening of registration and vaccination of young people between the ages of 18 and 34 starting from Friday, 20th August 2021.
During the Provincial launch, Premier Mathabatha said though Covid-19 is continuing to threaten the existence of human lives across the globe, young people in the province should heed to Government's call and get vaccinated. "This life is yours, you are the future and because you are the future you must make it a point that you live a healthy lifestyle," said Premier Mathabatha.
Premier Mathabatha also emphasized that while the government is working closely with the religious sector to pray for the divine intervention against the Covid-19, the Provincial Government will not sit back and wish Covid-19 will go away. "To our young people I really want to encourage you that now that you have seen the celebrities taking their jabs, come and also get yours because it is very important for your well beings." Premier added.
Both the MECs for Health Dr Phophi Ramathuba and for Sports, Arts and Recreation Thandi Moraka were also in attendance.
Health MEC Dr. Phophi Ramathuba reminisced about how the vaccination rollout started and also applauds the Provincial Corona Virus Command Council under the leadership of Premier Mathabatha.
MEC Ramathuba also indicated how the province performed against all odds. "As we all know that Limpopo is mostly rural we had to come with innovative strategy in order to register and vaccinate our elders, this included using of our personal cellphones."Ramathuba added.
Among other prominent young people who came to get their jabs include, Media personality Katlego Nyoni from SABC News and Actor Sydney Ramakuela from the popular SABC 2 Soapie, Muvhango.
"The reason I have decided to get vaccinated is because vaccination is not only protecting me as a journalist but also my friends, family and those that are close to me." Nyoni said.
Meanwhile Ramakuela also encouraged all the youth in the province to come out in numbers and get their vaccine.
The vaccination programme is continuing throughout the province and young people are encouraged to visit vaccination sites near them and get vaccinated.

Click here to view
...